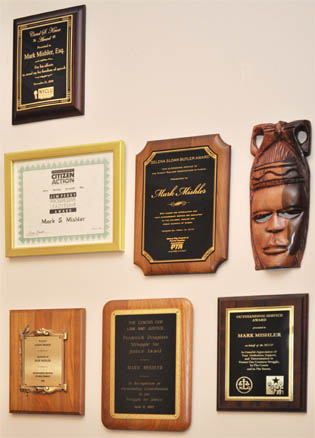 Honors:
Carol S. Knox Award for defending free speech rights in NY State, New York Civil Liberties Union (Capital District Chapter), 2010
Selena Sloan Butler Award for Outstanding Service to the Parent-Teacher Associations in Albany, presented by the Albany City Council of PTAs, 2010
Human Rights Award, presented by the NYS Human Rights Advisory Council Region IV, 2001
Jim Perry Progressive Leadership Award, presented by Capital District Citizen Action, 1998
Frederick Douglass Struggle for Justice Award, presented by the Center for Law & Justice, 1992
Distinguished Services in Legal Redress Award, presented by the Albany Branch, NAACP, 1986
Involvement:
Education organizations:
Albany City Council of PTAs, Co-President, 2005-07 and 2008-09 (City-wide umbrella organization of Parent Teacher Associations).
As his children progressed from elementary school through high school, Mark was an active member and officer of the PTAs at the Albany School of Humanities, Hackett Middle School and Albany High School.
Parents Across America, Founding Member of national public school parent advocacy organization, 2011
People Advocating Small Schools (PASS), Member, 2001-04
Other organizations:
Occupy Albany Legal Group, Volunteer Attorney, 2011-2015, co-counsel in Soares v. Carter, in which the NY Court of Appeals held in 2015 that a judge cannot hold a prosecutor in contempt for declining to prosecute a case.
Albany Branch NAACP, Executive Board, 1985-2005
Albany Police Department Task Force on bias-related policing, Member, Spring 2002
Capital District Citizen Action, Executive Board, 1992-96
Whitney M. Young Community Health Center, Board of Directors, 1985-89
Capital District Coalition Against Apartheid and Racism, Steering Committee, 1986-1994
City of Albany Community/Police Relations Board, Member and Secretary, 1986-88